June 19, 2013 /
Travel
Lake Superior Circle Tour / Day 3
Another chilly & damp morning in our tent.  I just slept in my clothes, so it was easier to get up and get going.  We rolled up our wet tent and crammed it into the trunk and headed back into Gran...
L
A
Another chilly & damp morning in our tent.  I just slept in my clothes, so it was easier to get up and get going.  We rolled up our wet tent and crammed it into the trunk and headed back into Grand Marais for breakfast.  We filled our bodies for the day with coffee and incredible food at The Pie Place Cafe.  I had a blueberry lime scone!  Then we had to backtrack some more to Cascade River State Park in order to check it off of our list.  This was a 3.5 mile hike, so the rain pants and the winter coat went on.  This was June 1st mind you.  One of the good things about all of the rain was that all of the waterfalls were pretty much at their peak!  The trail was slightly rugged, uphill most of the way, but not too steep, just a steady incline.  When we get to the top of the hill we stopped to rest on a bench and took in the view.  It was so quiet and peaceful, we were the only ones there.  I feel so fortunate that I'm able to get away from the hustle and bustle of the electronic world, it overwhelms me sometimes!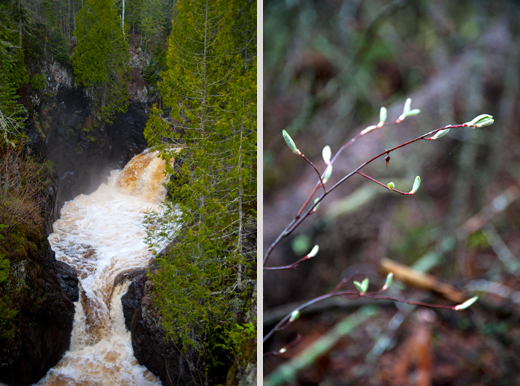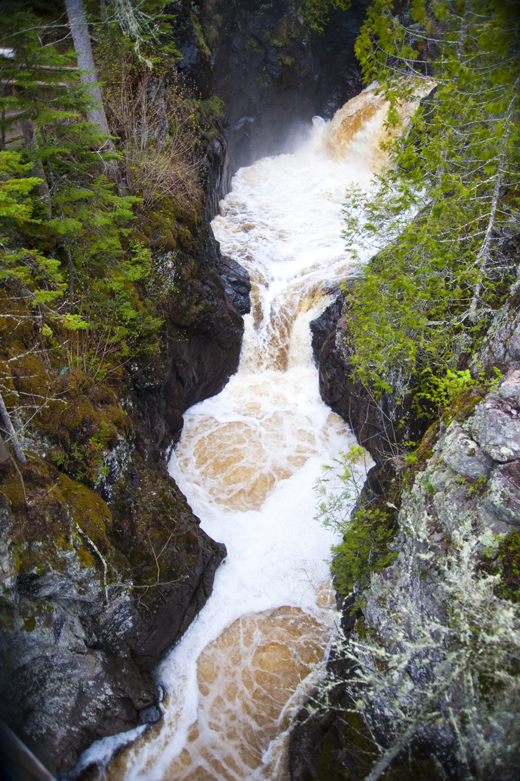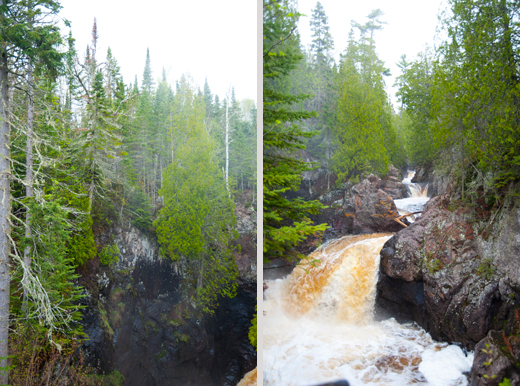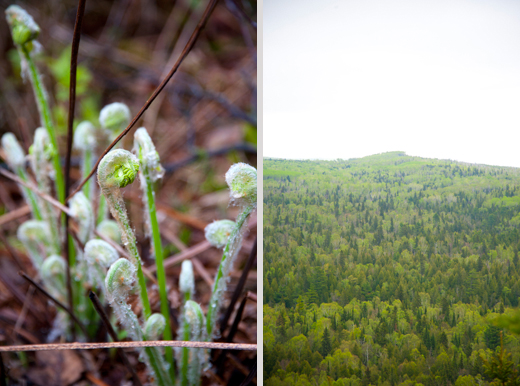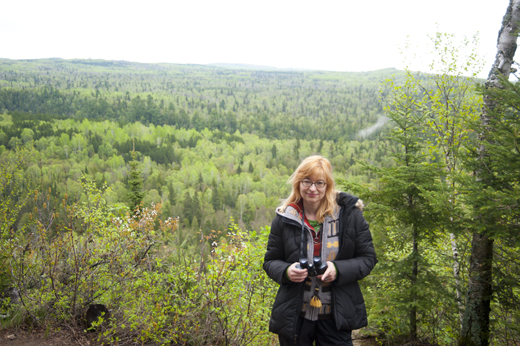 Can you count my layers?  It did start to sprinkle the last 15 minutes of our hike.
Getting back onto our Northern route we make one more stop in Grand Marais at The Worlds Best Donuts.  Timmy can't pass up the opportunity for a good donut!
Just past Judge Magney is the incredible Naniboujou Lodge!  It started out as a member owned club in 1927.  Some of the early members included Babe Ruth, Jack Dempsey and Ring Lardner.  It has the largest stone fire place in Minnesota, built with 200 tons of river rocks by a Swedish stone mason and is 20 feet high.  Antoine Goufee, a French artist, painted Cree Indian designs over the walls and the twenty-foot-high domed ceiling (resembling the shape of a canoe).   The Lodge officially opened in July of 1929, only to be followed with disappointment with the October 29th Black Friday stock market crash.  By the summer of 1930, members stopped paying their dues and eventually the vision for the Lodge had to change.  The ownership has traded hands many times over the years, but fortunately people have managed to keep this historical relic alive and away from demolition.  If you would like to read more about the history check out their website.  Tim and I stepped inside and warmed up by the fire.  This doesn't even look like we were in Minnesota!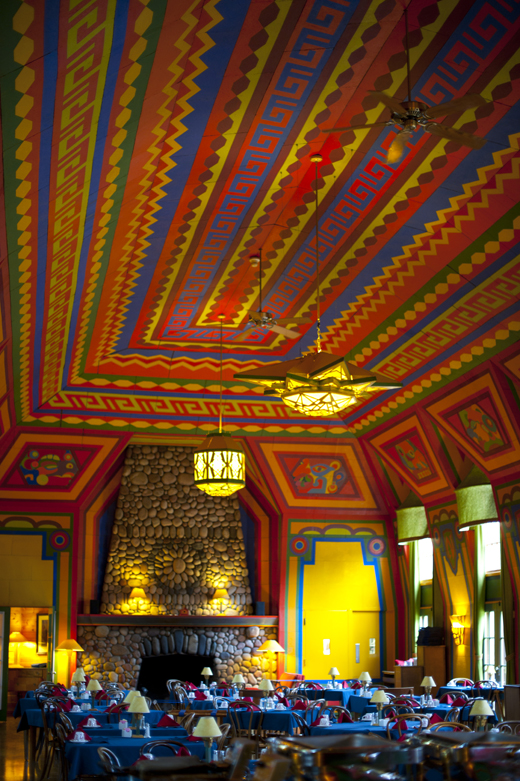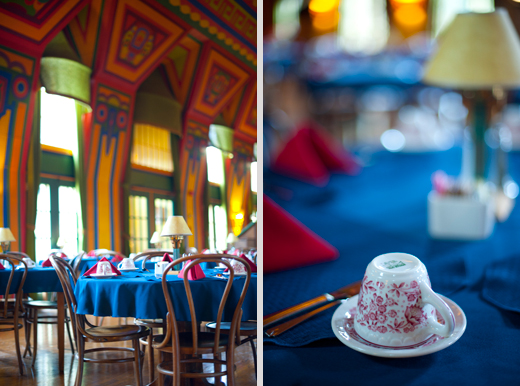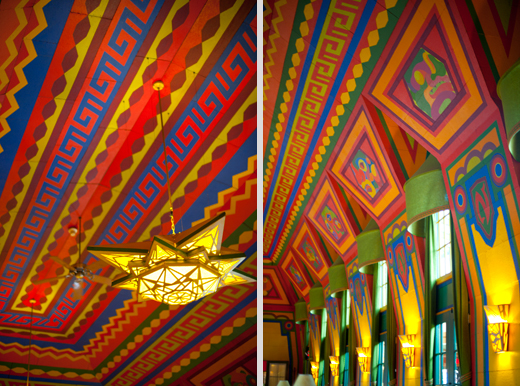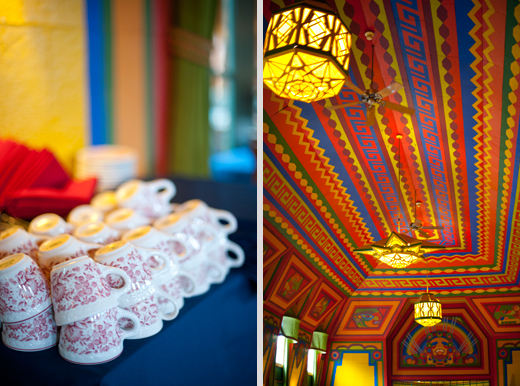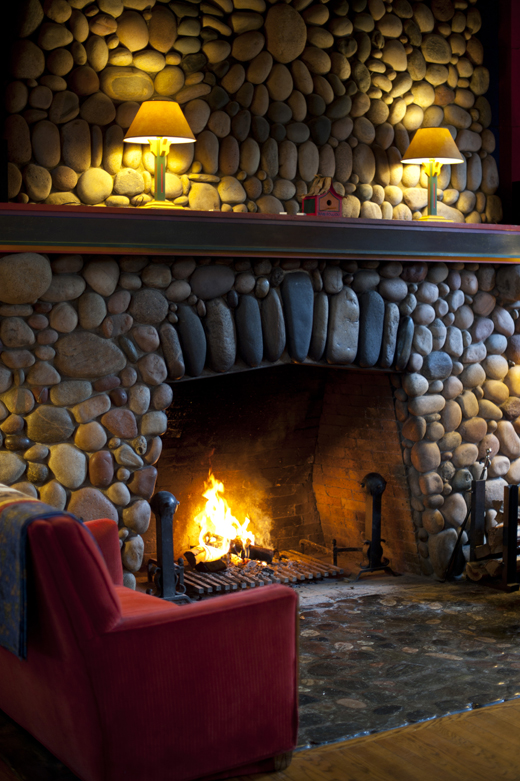 Back on the road we drove through more mist and fog and stopped at the Grand Portage National Monument to collect our first National Park stamp on our trip.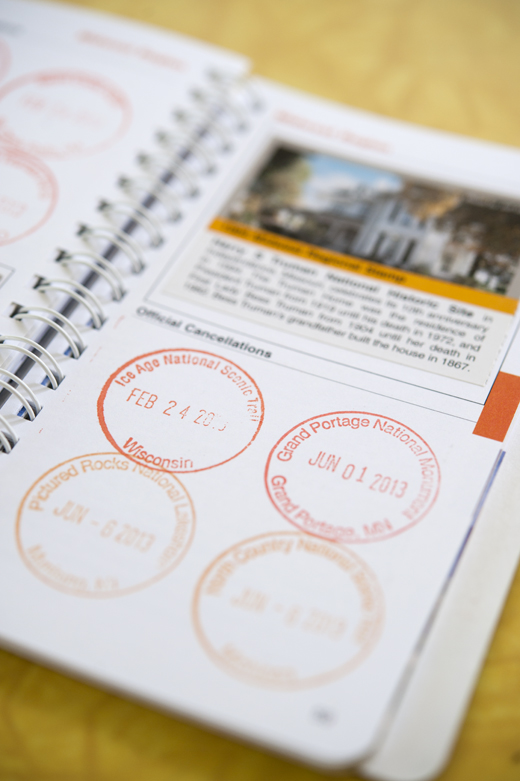 We hung out in the visitor center but we didn't visit the Fort re-enactment area since it was windy and cold … and it wasn't on our itinerary.  Just before the border is Grand Portage State Park.  The trail to and from the High Falls, the main attraction, is a mile and paved.  The High Falls are the highest in the state (hence the name) and I was extremely impressed!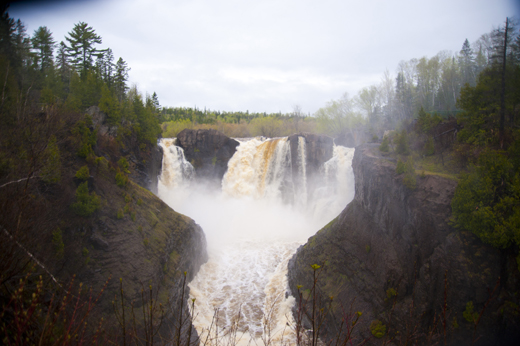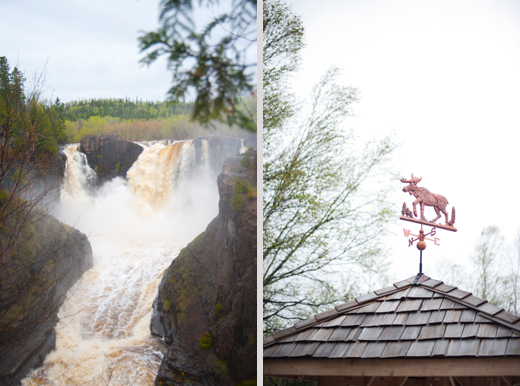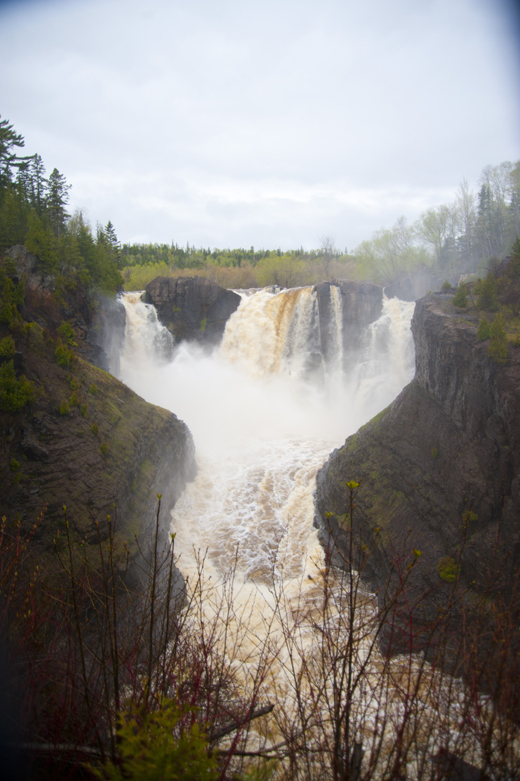 So, we only hiked a total of 4.5 miles, but we were a bit exhausted from the previous days, (yes, already) and it was cold.
Then just for fun, we stopped in Ryden's Border Store to get some Canadian money and make sure that we didn't absolutely need something duty free before we crossed the border in the morning.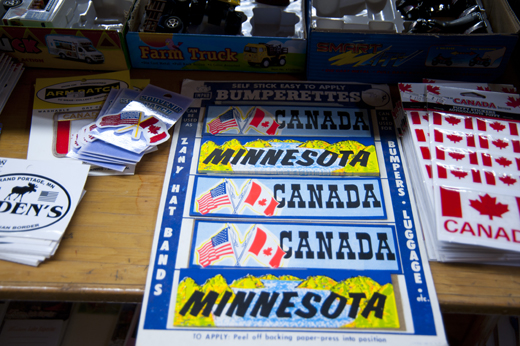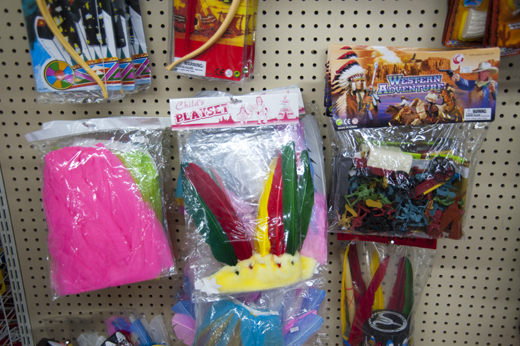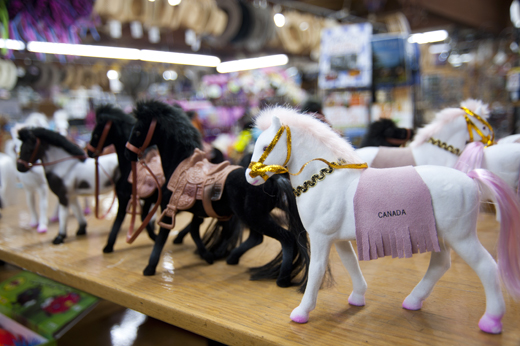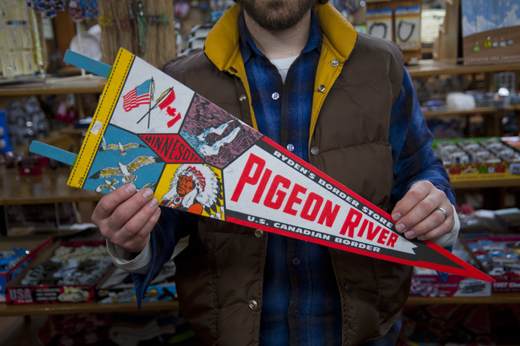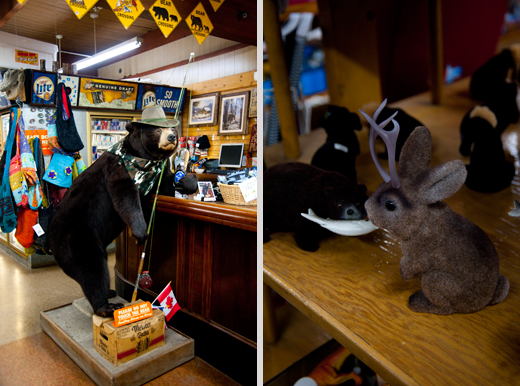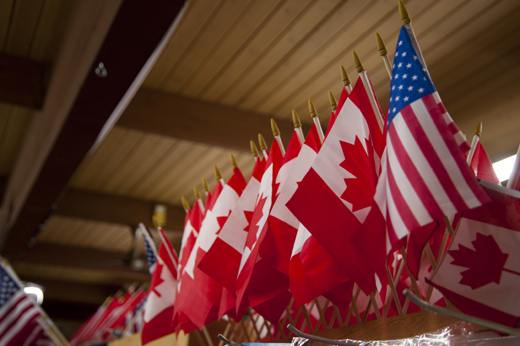 Since we didn't have a place reserved for the night, we figured it wouldn't be a problem finding a place near the border to stay… However, the only place near the Canadian/Minnesota border was the Grand Portage Casino…  I don't have a problem with casino's but I really didn't want to stay at one and we discovered that it would be $115.00 for the night!  We found ourselves grumbling.  We could camp again, but everything was so wet.  "But Tim!"  I said, "Lets go back to Naniboujou Lodge!"  It was about a half hour drive backwards and we didn't have any cell service to see if they had any rooms open, but we knew we did not want to stay at the casino, so back we went.  When we arrived at the Lodge, I ran out of  the car and waited in line at the front desk to see if they had a room open.  There was only one woman at the front desk covering the phone, restaurant bills and people checking in.  Their was a woman in front of me inquiring about room availability and I was getting nervous.  Please let there be a room!  I pretended to relax and be patient and after what felt like an hour (probably 5-10 minutes) it was my turn and yes they had a room and it was around $30.00 less than the casino!  We took it!  After checking into our sweet little cabin style room, we ate dinner in the dining room.  Dinner wasn't exceptional, but the people and the atmosphere were and we were able to sleep through the night in a dry bed and take a shower!