ila Handbags / December's Featured Vendor
Congratulations to Deborah Meggitt!  You are the winner of the Frenchie handbag!  (I'm super jealous!)  Please send me your email info. I will let you know what to do next! I am super excited this ...
i
C
Congratulations to Deborah Meggitt!  You are the winner of the Frenchie handbag!  (I'm super jealous!)  Please send me your email info. I will let you know what to do next!
I am super excited this month to be featuring the sweet and amazing Paula and Brian Bjerketvedt, the creators behind ila Handbags! I took a quick snapshot of them after we met at The Spyhouse.  All other photos were taken by the artist's or taken from their website.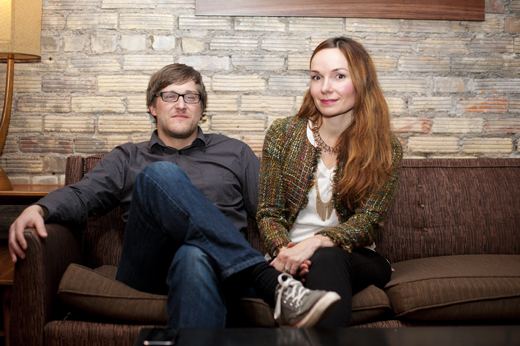 And, I cannot believe this, but they are going to give one randomly chosen person their very own Frenchie Handbag!  You pick the color!  (solid colors only) Whoever wins this, I will be extremely jealous of!  All you have to do is leave a comment at the bottom of my blog by 5:00pm Friday the 7th! After you read the interview of course!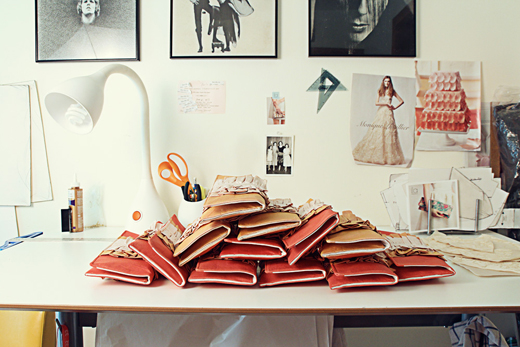 Paula made her first handbag several years ago for a friend who was getting married in Paris.  She couldn't attend the wedding, but wanted to give her something very special and personal.  When her friends saw her amazing clutch, they all wanted one and ila Handbags officially began in 2010.  Now she sells at a few shops in Saint Paul and Minneapolis, one being Che Bella, a shop in Maryland and two shops in Singapore.  She does a line made from old Kimono's that are popular in Singapore.  Paula does all of the designing and creating of the handbags and Brian takes care of the marketing, some of the photographs and the website.  It sounds to me like a perfect match!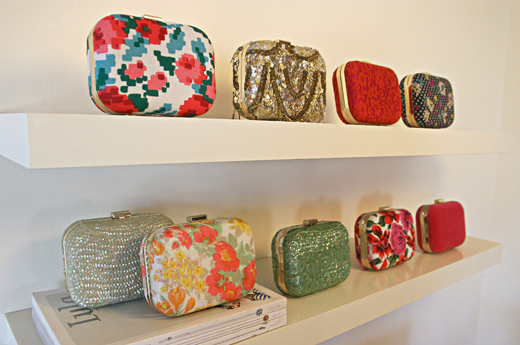 Before making her first clutch, Paula started out at the University of Minnesota where she received her degree in Clothing Design.  She also worked in the display department at Anthropologie for a while, which is my favorite store, just in case you were curious!  It's no wonder I'm in love with her handbags!
What amazes me the most about her handbags and clutches is that all of the fabric (except for the Frenchie) comes from either vintage clothing or vintage fabric scraps that she finds.  So, the majority of the handbags are limited edition!  The Frenchie is made from silk shantung, this is the only new fabric that she uses currently.  What also amazes me, is that she makes all of the handbags herself, here, in the U.S. of A.!  She has one employee who comes in every so often to help her cut the fabric, but otherwise it's all Paula!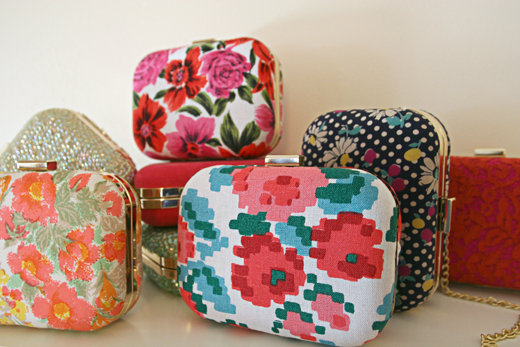 When I asked Paula where the name "ila" came from she told me that it was short for her grandmother's name, Ilavern, Ilavern Swanhilde Gregory, to be exact!  She said that her grandmother was an accessory lover and she had many jewels and other items for Paula to play "dress up" with when she was a child.  Her grandmother is the "true inspiration" behind her handbags.  I find that to be so sweet.  It reminds me of the days when I would dress up in my moms clothes or my grandmothers jewelry, those days were some of the best!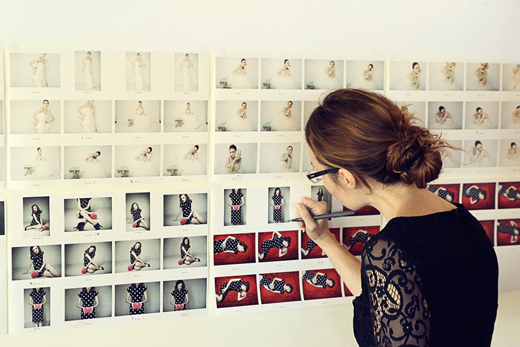 A few fun facts about Paula and Brian are:
Paula listens to mainly Classic Rock, a few of her favorite musicians/bands are, Fleetwood Mac, Lana Del Rey, The Ravonettes, Gotye, She & Him and a local band called The Parlor Suite. But while she is working on her clutches she mainly listens to MPR.   When she reads, which probably isn't very often because they have two young children, she's most interested in Biography's and she loves period films.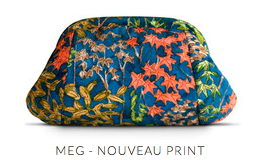 A few of Brian's favorite bands are Death Cab for Cutie, Cold War Kids, Spoon and The Arctic Monkeys.  Brian currently spends a lot of time teaching his children how to draw!
I also thought it was cool that Paula keeps a little book of swatches from every bag that she designs.
This is definitely her dream job!  They are quite the lucky pair!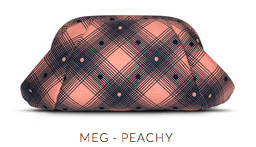 They also take custom design requests or Paula can embroider a wedding date inside your bag if you wish.  She once made a handbag out of a brides mothers wedding gown.  How's that for special!
And for the future?  Paula says that she is interested in creating her own textile designs!  She has a fondness for historical fabrics, so I can't wait to see what she come's up with!  She also mentioned that she will be looking for an intern with sewing experience in the near future, so check out their website and send her a message if you are interested!
I am crazy about these clutches!  Maybe if my husband reads this he will realize that I have a birthday coming up sometime soon!  My current favorites are: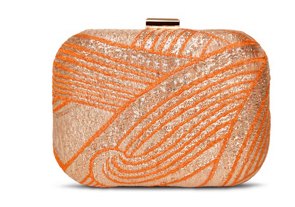 Gold & Orange Deco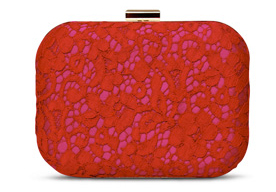 The Muse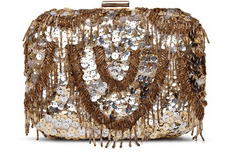 Zelda
And
Yes, I am a fancy girl in my heart!
Remember to leave a comment to be entered in the drawing for the FREE FRENCHIE HANDBAG!  You have until 5:00pm on Friday the 7th to enter!