DJ Jake Rudh / March Featured Vendor!
Many of you may be familiar with Jake Rudh as the DJ for Transmission dance nights at Club Jager and The Varsity Theater.  I first discovered him on the tiny Club Jager dance floor, dancing and sweati...
D
M
Many of you may be familiar with Jake Rudh as the DJ for Transmission dance nights at Club Jager and The Varsity Theater.  I first discovered him on the tiny Club Jager dance floor, dancing and sweating my butt off, smashed up against 50 other sweaty bodies!  I love to dance and he played music from the 80's, which really took me back to my formative years.  A few years later I heard that he was hosting a segment on The Current, my favorite radio station, also called Transmission.  This meant more awesome music in the privacy of my own home!  Then, just this past December I had the incredible opportunity to photograph a wedding that he was spinning the music for.  I immediately knew that it would be a superb night of dancing!
Soooo… with all of these connections (right!) I knew I had to include Jake Rudh as one of my featured vendors!  Last week I had the pleasure of meeting up with him for coffee and a whirl through his extensive mental encyclopedia of music.  How he can keep everything in order is a mystery to me!  He does own over 10,000 records and CD's, so I suppose that helps out.  But, back to the reason why I am interviewing him is that he DJ's weddings!  Can you imagine having a super cool DJ at your wedding that actually knows the music that you like and will play the music that you want!  He's not just another random DJ that you don't meet until your wedding day, playing whatever songs happen to be popular at the moment or a Youtube sensation.  Jake actually takes the time to get to know you and your musical tastes before your wedding.  And his style is kickin', what else do you need!  However, if you are looking for a wedding DJ, don't delay because he fills up fast!  Jake DJ's 20-25 weddings per year!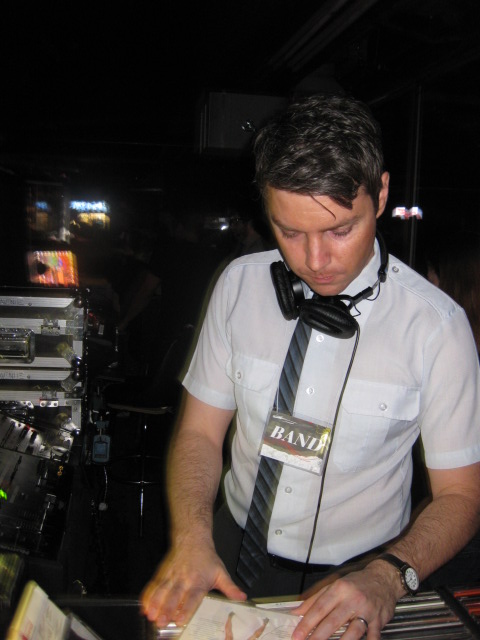 His first gig was at Jitters in downtown Minneapolis on a Sunday night.  He called that one, Room 7609, a lyric from a Duran Duran b-side song. Ever since then, he's been DJ'ing somewhere every week for the past 19 years!  He's DJ'ed weddings for the past 12 years, so you could say that he has some experience under his belt.
Jake's first desire was to be a bass player in a band, but when his life path did not lead in that direction he found spinning music to be the next best thing.  DJ'ing is his high!  He "love's being the connection, with the feeling that people get from the music".  I totally get him on this, because for me, taking photographs of really awesome events or things in the world that move me, makes me feel alive and that I have a purpose.
What is Jake Rudh listening to currently?  Well, of course, The Current when he's driving.  In the morning he like's some good jazz and as the day goes on he will pick up the pace a bit before a gig to perk things up.  His musical taste's change daily, however, he says he likes to "devour artistic output".  Most recently he purchased the Andy Partridge & XTC box set.
Where does he find inspiration?  Jake lives with his wife and dog in a 1960's house decorated with 1960's furniture. He's very inspired by designers of the Bauhaus era, as well as Saarinen and Charles and Ray Eames.  I'm sure you've heard me mention those names before in past posts.  Tim and I, having attended Cranbrook Academy of Arts have a huge appreciation for Saarinen and Eames.  He's also a huge Mad Men fan, as are Tim and I, it starts again in just a few weeks!  Jake has hosted the Mad Men parties since they began at Jax Cafe each year.  If you enjoy this era as well, he suggests checking out TC MCM (Twin Cities Mid-Century Modern).
And, because I was slightly nervous about doing this interview I asked my husband, Tim, for question ideas and being a music lover himself, these were what he came up with:
If you went to an Estate Sale and found a box of 7 inches, what would you want to find?
First of all, Jake says that he loves estate sales and garage sales, especially church sales because that's where you can find the best deals.  He does say that the hardcore record collectors are usually at a sale before the break of dawn.  But if he were lucky enough to come across something really great, he would  get excited about finding some original Stax, old school Mo-town, or some British Invasion (The Zombies, The Kinks, The Rolling Stones, The Beatles).
And one more super creative question from the husband:
If you were to crash a wedding as a glam rock band, who would you want to show up as?
First, Jake want's to know why you would have to crash a wedding as a glam rock band.
I feel my nerves give me a kick.  I have no idea, I say, just some crazy question my husband thought would be funny, heh, heh…
But Jake seems interested in the idea and first answers, Ziggy Stardust and the Spiders from Mars.  But wait, no, he'd want to go as Roxy Music and he would show up dressed as the lead singer Bryan Ferry.  David Bowie and Bryan Ferry are at the top of his idol list.  AND he recently had the opportunity to interview Brian Ferry!  It looks like life is treating him well!  Book him for your next corporate event!