BLOG
August 28, 2018
Our last day on Isle Royale was bittersweet.  We love this place and plan to come back for sure!  We took one last short hike towards Scoville Point (without our backpacks this time) and we saw another moose.  We just stared at each other for a while and then went our separate ways.  Then we said our goodbyes to the island and got back on the boat for our 3 and a half hour trip back to Copper Harbor where we had a nice dinner at one of our favorite restaurants, The Harbor House.
Peek-a-boo moose!
Back on the mainland at Copper Harbor, one of our new favorite northern towns.

August 27, 2018
Our final day of backpacking on Isle Royale was a short and easy hike.  Only 3 miles from Three Mile Campground back to Rock Harbor, where we were looking forward to staying at the historic Rock Harbor Lodge in a bed where I would not be shivering the whole night.  It felt weird to be back amongst other people and noises.  Everything seemed so loud.   There was also some construction going on near the lodge and we were forced to listen to the sounds of a jackhammer for the rest of the day.  This is not what you want to hear when you specifically go to a place to get away from these types of noises.  Then we had what we thought would be a really nice dinner at the lodge, but it turned out to be an overpriced mediocre meal.  I guess, what can you expect when it's the only restaurant on the island and they have to ship in their food.  We weren't there for the restaurant experience anyway.  It was really nice to sleep in a warm bed however!
The Rock Harbor ranger station.
A very strange book that we found at Rock Harbor Lodge.
That night we attended a lecture by one of the park rangers about art and artists that have visited the island.  Tim drew this lovely drawing.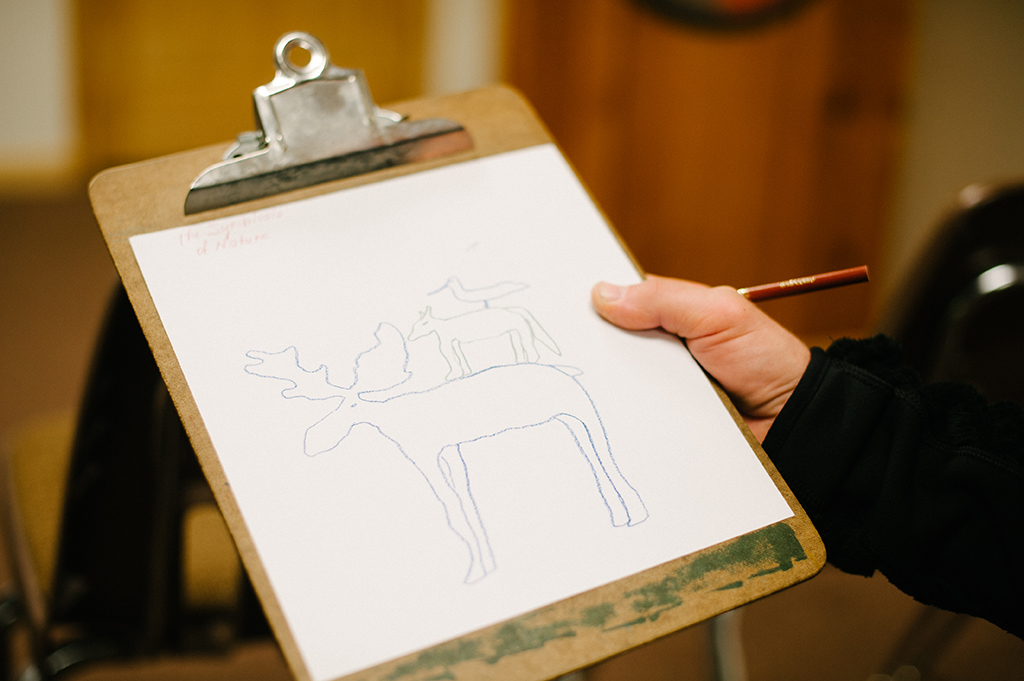 All of the rooms in the lodge face Lake Superior.  This was our view.  It was so relaxing to listen to the water lapping at the shore all night long.

August 23, 2018
Another beautiful day!  I think we got really lucky with the weather and the fact that we were there before busy season so less people.  The hike from Daisy Farm to Three Mile was only a little over 4 miles, so relatively easy compared to the last two days.  The hike was also very rocky, as in you are walking over giant rock slabs, which they say can be very slippery when wet and I believe it.  I'm glad it was dry because I didn't want to fall into the lake!  It was a very peaceful hike along the waters edge.  We arrived at Three Mile campground early and most of the shelters were vacant, so we took one near the water again with a large rock area out front which was nice and warm from the sun beating down on it. It made a nice spot for me to finish off my little 3ml of Black Box Pinot Noir.  I'm a wine connoisseur and I usually don't drink wine from a box, but these little guys sure do hit the spot when you are backpacking and they are very small and convenient with their screw cap.  We hung out at our site and took it easy for the rest of the day, finishing up our dehydrated food and watching the mergansers.  Unfortunately there was a male merganser trying to mack on another dudes girl and he would not give up!  It was slightly uncomfortable to watch, I don't know if there were territory issues or what was going on, but nature is rough!  The couple finally got away, but geez!
This evening was the night of the summer solstice and it was still light out when we tried to go to sleep.  I couldn't sleep, as usual, so I got up and I am really glad that I did because I saw a gorgeous moon rise.  It was such a peaceful moment.
This was my favorite camp site that we stopped at, but I woke up shivering again in the night.  It was so bad that I had to wake up Tim to warm me up.  Beautiful campsites on the water = freezing cold nights.

August 22, 2018
Hiking away from Lane Cove the next morning was not as fun as hiking towards it because there were some fairly steep climbs back up.  Once we got up to the Greenstone Ridge it was flat again with many beautiful vistas and wildflowers.  I had ambitiously planned for us to hike 13 miles on this day, but after our first day we decided to alter our route a bit and not go as far.  So we only did another 7 mile hike to Daisy Farm campground.  The hike was beautiful and very sunny, I couldn't believe that I was sweating after a night of shivering.  When we arrived at Daisy Farm we were excited to nab a shelter which are actually pretty cozy and clean.  We set up our tent inside for extra protection from the wind at night.
We came across these tiny, little strawberries that had a delicious burst of flavor that were a nice treat on our hot trek.
Our shelter at Daisy Farm
A long awaited meal!
The shelters had a lot of graffiti stories.  Some were pretty entertaining.
We saw an older gentleman hiking alone with this card on his walking stick.  When he left and I was looking at all the shelters I found this in the shelter he had stayed in.  December 1995 to May 2018 is a very short time on this earth.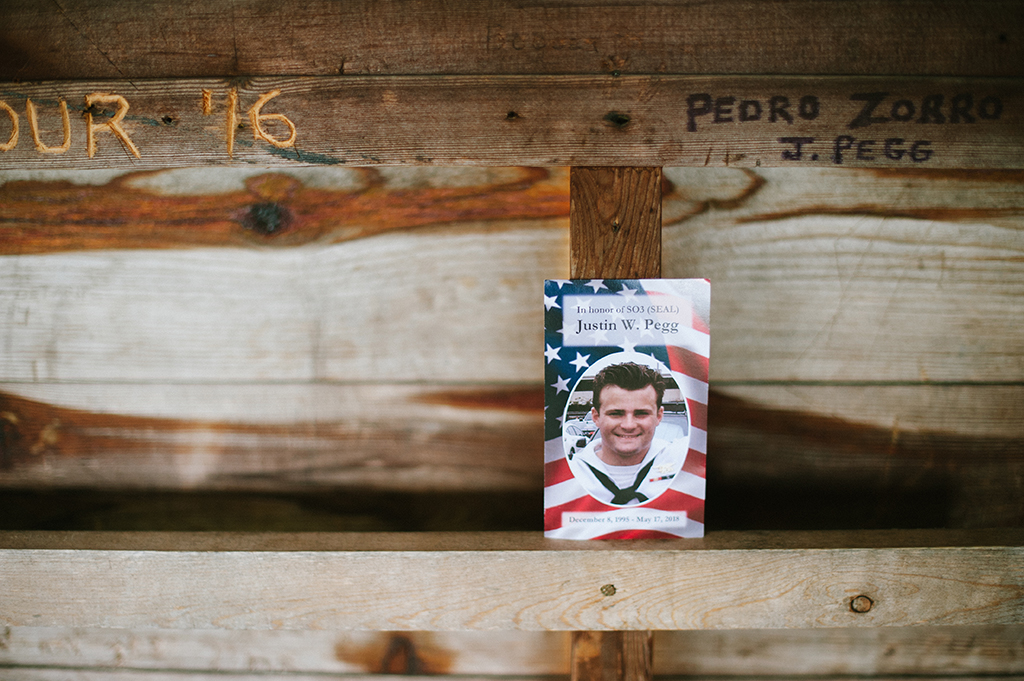 August 21, 2018
Tim and I are huge State Park and National Park supporters and, well, nerds I guess!  We have been to almost all 66 of Minnesota's State Parks and we hope to some day get to all of the National Parks.  Isle Royale National Park has been on our list for a while and we've been talking about it for a few years.  This past winter Tim finally decided that this was the summer to visit Isle Royale!  It's not the easiest place to get to, and you really have to plan ahead and buy a lot of equipment if you are planning on backpacking, which is what we did.  This was also our first backpacking trip so we weren't quite sure what to expect.  However, I think Isle Royale is a great place to have a first backpacking experience because:
A. There are no bears!  Nope, no bears!
B. There are currently only two wolves, but even if there were more, they pretty much keep to themselves.
C. It's an island, so you can only go so far, it's kind of difficult to get lost.  I think it's 45 miles long and 9 miles wide.
D. It's a National Park and we love supporting our parks!
I'm sure there's lots of other reasons but these are our top 4.
Fortunately we had pretty exceptional weather; no rain, it was in the 60's and 70's during the day, however, the nights did get very cold and even with my long underwear, jeans, wool socks, hat and gloves on in my sleeping bag that is supposed to be good in 30 degree weather, I was literally shivering through the nights.  That part was my least favorite.  But I survived!
I did overestimate how far I thought we could hike.  We do a lot of hiking and camping, but we don't normally carry 40 and 55 pound packs on our back.  These didn't feel overly heavy, and I really don't think we over packed, but extra weight is just bound to slow you down.  We also decided that we wanted to take our time and enjoy our hike and really take in nature.  We weren't trying to see how many miles we could get in.
So, once we decided that we were going to do it, we had to get our gear.  Some we had (tent, sleeping bags, sleeping pads) but we had to get backpacks, a water filter, a jet boil fuel tank to make all of our dehydrated food that we also had to buy, hiking shoes, etc.  That added up real fast!  Thank you REI!  (We really do love REI!)
Then we had to drive to Copper Harbor, Michigan and spend the night so we could catch the ferry to take us over to the island.  Not only another expense, but we had to make sure that we were there on time.  The ferry took about 3 and half hours to get to the island and once you get there you check in and then you're on your own!
We visited at the end of June, so not quite busy season yet, but we still saw a fair amount of people.  However, once we were deep into the trail, several hours would go by where we saw no one!  It was just us and the birds and the snowshoe hares and the moose!  We ended up seeing 5 moose!  Oh, there's also no wood ticks or deer ticks!  Just, unfortunately a winter tick that affects the moose.
Overall, we LOVE Isle Royale!  It is the least visited National Park, but most returned to, and we definitely plan to return!
On our first day after the ferry dropped us off, we headed to Lane Cove on the North East side of the island which is roughly a 7 mile hike.
We saw 4 moose our very first day!  One was a young male with fuzzy antlers that was rummaging around in one of the lakes eating vegetation from the bottom of the lake.
When we arrived at Lane Cove there were 6 campsites and 4 were already taken so we grabbed the fifth one.  All of these sites were really nice and spacious and quiet.  Once we had our tent set up, Tim jumped into the freezing Lake Superior water to filter some water which we boiled in our handy Jet Fuel boiler.  Love this thing!  Then we rehydrated some red sauce and rigatoni, which was surprisingly tasty, but maybe anything is tasty after hiking 7 miles of ups and downs with 40 pounds on your back!  I then popped open my little Black Box Pinot Noir and sat on a rock at the edge of the water to watch the sunset for the next 2 hours or so.  It was probably around 11pm when it finally disappeared since we were so far North and it was actually the summer solstice! A truly gorgeous spot for a sunset!
Sunset at Copper Harbor Michigan the night before we leave.
Leaving Copper Harbor on the Isle Royale Queen IV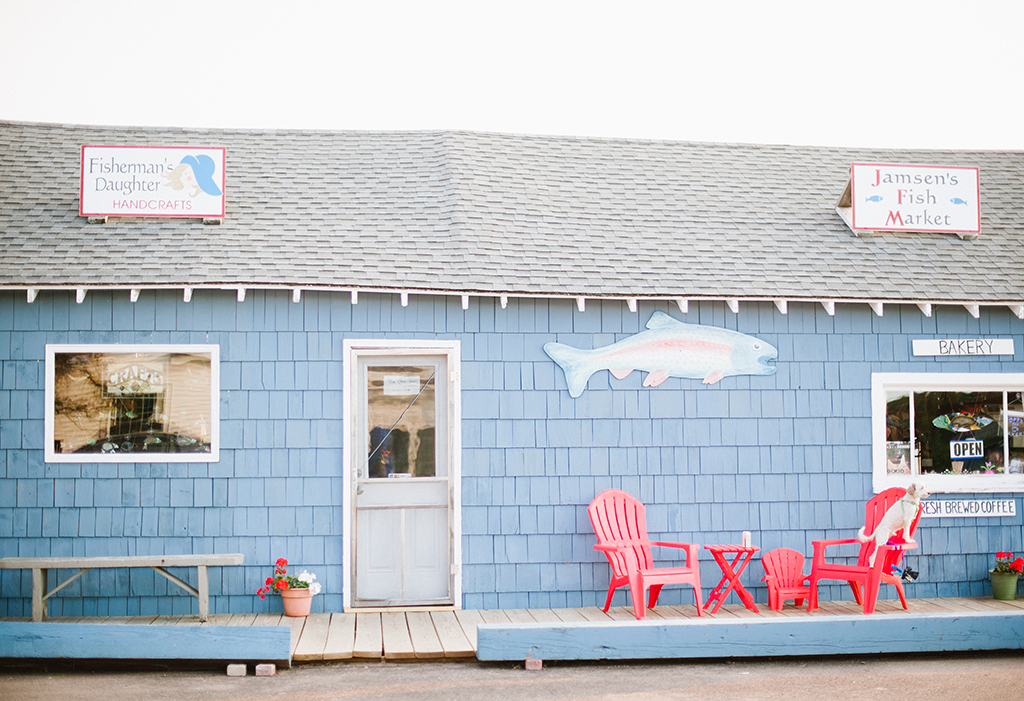 Approaching Isle Royale!
Off we go to Lane Cove!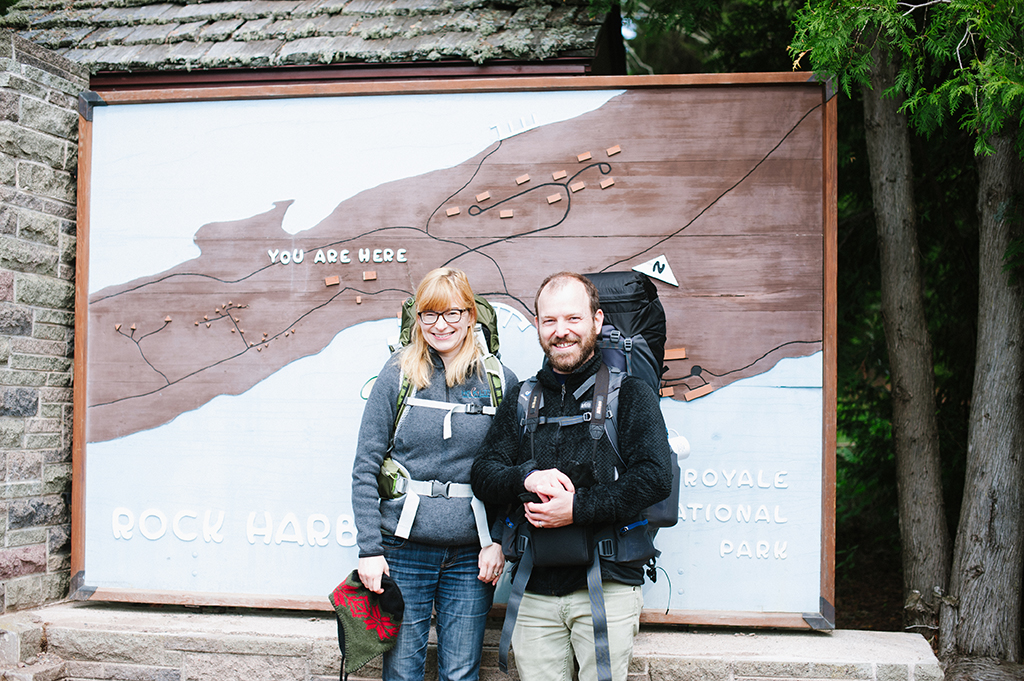 Our first signs of Moose!
Moose!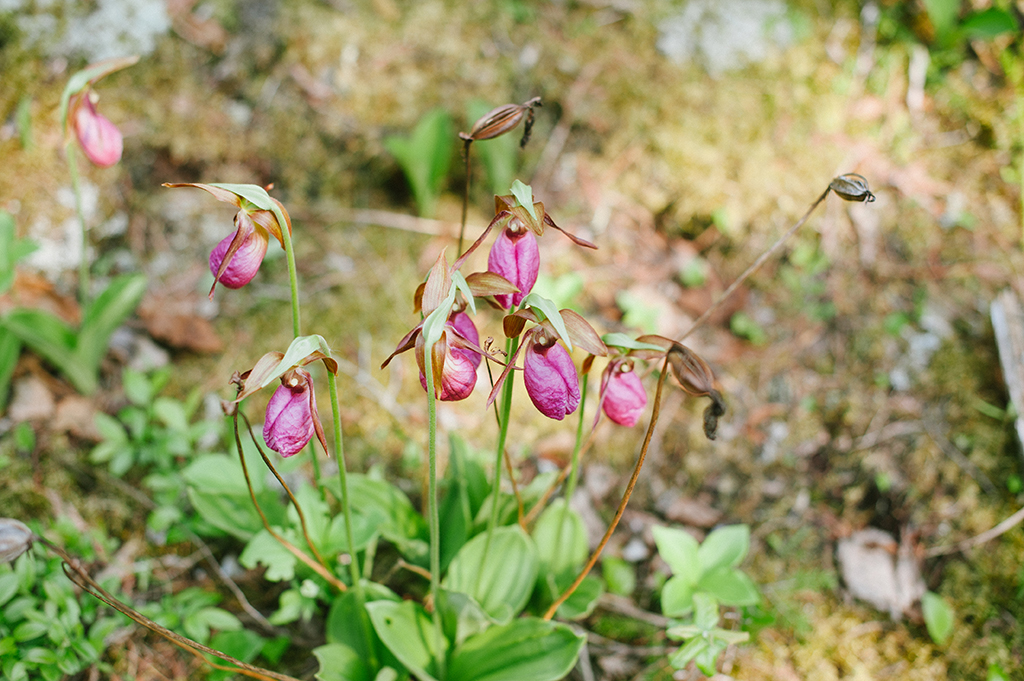 A majestic sunset at Lane Cove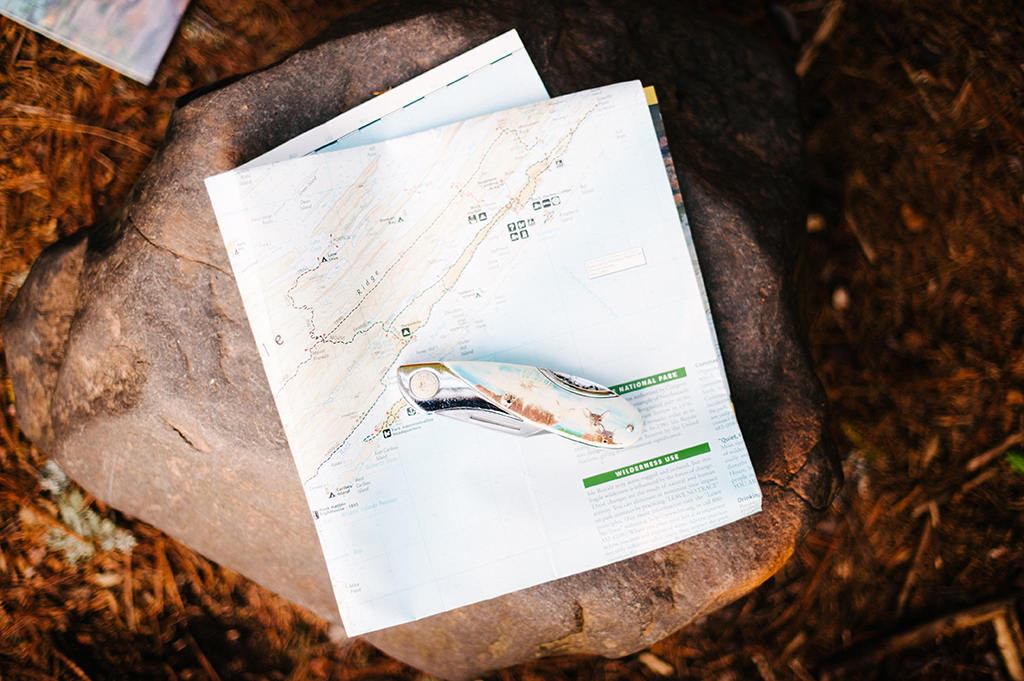 August 20, 2018
Lisa and Nate were (believe it or not) married 10 years ago!  Since then they moved to Arizona and started a family and had two beautiful little boys.  Having reached 10 years of marriage and being far away from family they wanted to have a little gathering in their families gorgeous Minnesota backyard for their vow renewal and to celebrate their lives and friendships.  The afternoon began with some backyard games, drinks and the music of Yo La Tengo.  Then everyone gathered around the ceremonial tree that Lisa (wearing her original wedding dress!) and Nate had chosen for their vow renewal.  The two of them poured soil from their home states, Minnesota and Illinois, while their oldest son added the rocks from their current home of Arizona.  It was a sweet little moment to bring everyone together.  Afterwards everyone sat around the elegantly decorated table to enjoy a perfect summer evening together.

August 16, 2018
Lauri is from Finland and Aprillyn is from the Philippines and with the magic of technology and transportation these days they met someplace in between.  I love Irvine Park in Downtown Saint Paul, it always feels like I'm in another country, which seemed very fitting for these two to have their ceremony here.  In a place that feels like another.  Lauri and Aprillyn were joined by their family and friends to celebrate their new union!

August 2, 2018
Finally I have been officially hired to photograph someones cat!  I love my cats and I'm always photographing them, but to actually be hired to photograph an animal is my dream come true!  One of my past brides had me over to photograph her elderly cat Jefe and he is the sweetest.  He just hung out and gave squinty love eyes and looked cute.  I hope to photograph more animals, so let me know if you're looking for some fur baby photos!

July 31, 2018
I'm a little obsessed with swimming pools and I don't know why.  I don't really care to swim, or even get in water, I don't really like getting wet.  Which is probably strange because I'm a Pisces, which is a water sign, so you'd think I'd love water.  I love to drink water, but I don't want to be in it.  So, this thing with the pools, I just don't know.  They can be nice pools or deteriorating pools, pretty pools or ugly pools, full pools or empty pools.  There's just something that draws me in.

July 30, 2018
Tim and I love the National Parks and hope to some day get to all of them!  These lovely places are so important to our Earth and we love to support them and share stories of their beauty.  It is extremely important that we keep these parks untouched as much as we can.
This California trip took us to Sequoia National Park, where the magical trees towered over us and are so huge these photos don't do them justice.
We also visited  Pinnacles National Park and Muir Woods.
Tim inside of an old Sequoia log.
Pinnacles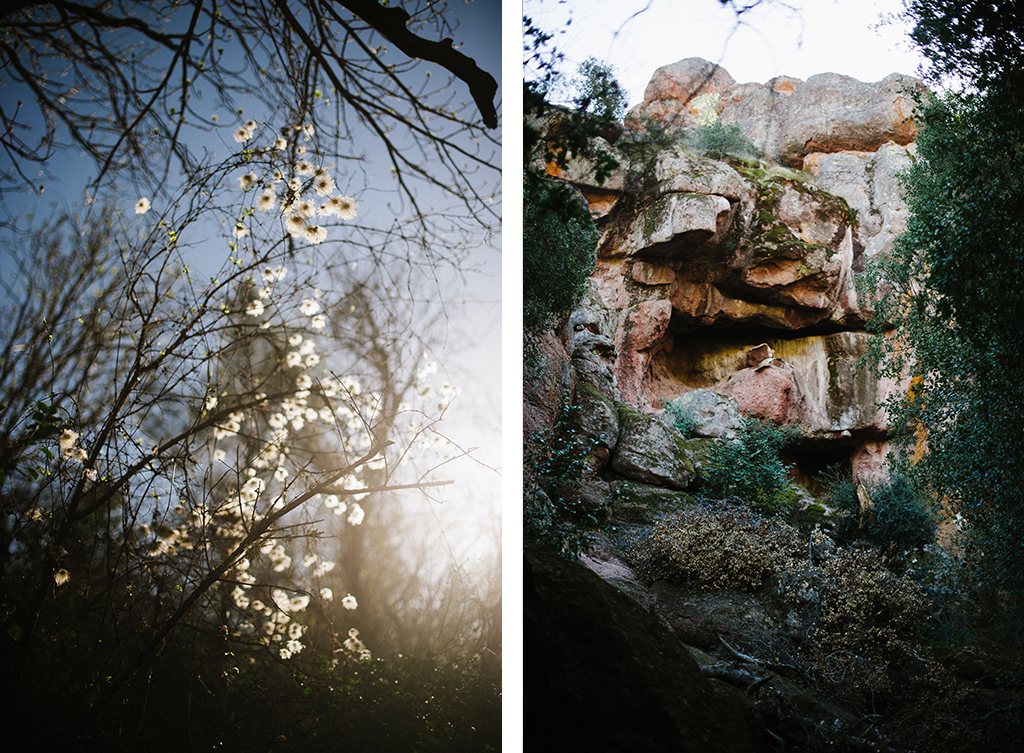 Tim entering the scary cave.
Muir Woods