Weekly Hero-(es) - Cece and Blair and over 2,000 others that helped save a Theatre Teachers job!
During these troubling times I have found myself wanting to do something more. Actually, I've always wanted to "do something more" but I'm often not sure what to do and I feel helpless. When Covid19 ...
W
D
During these troubling times I have found myself wanting to do something more. Actually, I've always wanted to "do something more" but I'm often not sure what to do and I feel helpless. When Covid19 began to spread across the country I began to notice a lot of people stepping up in different ways, some small, some going above and beyond. I want to use this space to highlight these wonderful people on a weekly basis. This is my way of "doing something more" by highlighting the positive moments and people that are out there making a difference. It is only a small thing I know, but it makes me happy and I hope it will make you happy too. If you know of someone that you think would make a great Weekly Hero please let me know!
Sometimes a Hero needs Heroes.
Cece contacted me recently to share her wonderful story about her Hero Mr. Holsen, the Theatre teacher at South St. Paul High School.
This story especially touched my heart as I was a "theatre nerd" in high school myself. In fact, I can't imagine what high school would have been like for me if I hadn't had such creative outlets as theatre and photography classes. The arts are such an important part of the high school experience and they can often be "safe" spaces for some students who feel like they don't fit in.
I had a Zoom meeting with with Cece, who graduated from South Saint Paul High School in 2015 and is now a graphic designer and Blair, who graduated in 1994. Blair is a teacher in the Kenyon-Wanamingo school district, a father to two daughters participating in theatre, and the person that set up a Facebook page and a petition to save Mr. Holsen's job. I was so impressed and almost brought to tears to hear their love and passion for the arts and Mr. Holsen.
As I can sometimes become a hermit, it reminded me of all of the good people out there in the world!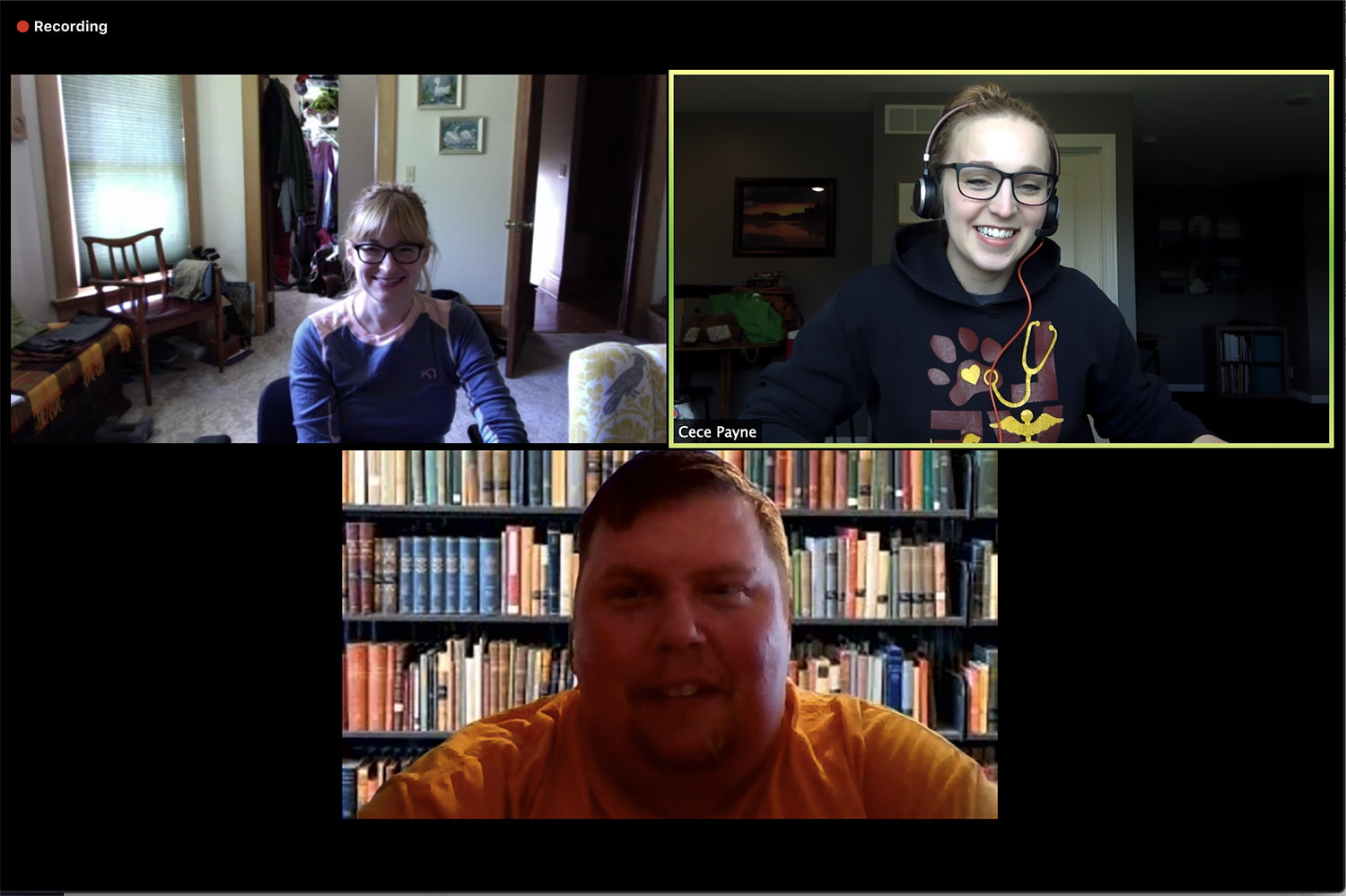 In Cece's words this was what happened:
"With the threat of Covid-19 putting pressure on SSP High School's theatre budget, the city planned on removing the theatre director position entirely, the position Mr. Holsen currently occupies. This position manages the high school theatre program as well as SSP's community theatre, so, naturally, everyone who knows Mr. Holsen was devastated.
However, in response, we collected over 2,000 signatures on a petition and over 300 community members individually contacted the SSP School Board's members to voice our concerns, not just for Mr. Holsen's position but for preservation of the arts in our community. We also decorated the city streets with chalk art in support of Mr. Holsen specifically and held a drive-by parade past the school board members' houses, holding signs and sharing our stories of how SSP theatre had changed our lives in an overwhelmingly positive way." See their sweet Youtube video here: https://www.youtube.com/watch?v=SemLmvOUsWI&feature=youtu.be&fbclid=IwAR3H5NmzSegLRXT0RIksCvf5HXywxjkVejK_5bST8mtMwhVKIiq3GK9fsSc
"Together, these efforts resulted in a 7-0 vote by the school board in their subsequent meeting to keep the theatre director position, saving not only Mr. Holsen's job but also ensuring we, as a community, would have the good fortune to continue under his guidance and loving support for years to come." The St. Paul Pioneer Press even covered their story here: https://www.twincities.com/2020/05/09/south-st-paul-rallies-to-save-theater-director-from-4-1m-in-school-budget-cuts/
Cece continues: "Mr. Holsen has been an unsung hero at South St. Paul for the last ten years and an advocate for art education, including visual art, photography, theatre, and music. For me, personally, he was a mentor, educator, and friend while I was at SSP High School, and now, as a graphic designer, I still work with him and his wife (another theatre director) on a regular basis. I can also say with certainty that, without him and his wife's support, I never would have considered pursuing art, as a profession, and I wouldn't be a graphic designer today.
Although, for many in SSP, the last few months have been depressing, this experience was an enormous win, and to know his knowledgeable, calm, and caring influence is here to stay is a huge blessing."
Blair Reynolds spoke about how the theatre department had been with a director since the early 1980's and it wasn't "arts against sports" but 140 students participated in the 2019 theatre program and that was more or the same amount as the sports program. Blair also emphasized that "It's not just about great actors and great singers and great dancers, it's about giving kids an opportunity to try" and that's what Mr. Holsen did.
Blair and Cece (along with hundreds of others) were influenced by the work of Mr. Holsen to such an extent that led them to fight to protect his job, build awareness around the arts and go on to share his story in multiple ways and that's what makes them the heroes of this story!