Featured Vendor – Kimberly Harrison of Artemisia Studios
January 9, 2017
First off, I am totally in love with the floral arrangements designed by Kimberly Harrison, owner of Artemisia Studios!  Her bouquets are so beautifully thought out and every flower is placed so specifically, yet they look as if someone just went out into a field and gathered a bunch of flowers and that was just how they looked.  Everything about her arrangements is so delicate and romantic, I wish I could have her come to my home every week and decorate it with fresh flowers!
Kimberly was kind enough to let me snap a quick photo of her in our frigid Minnesota temperatures!
Kimberly actually went to school with the intention of studying photography, which she did for a while, but then she fell in love with flowers.  She got her start working with a company that supplied hand tied bouquets for different co-ops in the area and she eventually went out on her own.  Kimberly has had her company, Artemisia and has been working out of her home for 18 years, so she knows what she is doing and she has had to deal with just about every situation.  Weather being one of the biggest factors.  I've never thought about all of the tedious timing that has to go into working with living flowers and how the weather affects everything.  She receives her flowers farm direct (local and organic when she can) 24 hours after they have been cut, then she has to know the timing of when every different bloom will open and how long it will last in a bouquet.  The flower has to be close to it's peak, yet not past it, and this is different for different types of flowers.  Then you throw in the weather and that can change everything!  If it's really hot or really cold outside, that will affect how long the flowers last.  Kimberly also knows which flowers fare better in different weather and she has sometimes had to redirect people to different flowers depending on what time of year the couple will be getting married.  Another point that I found really interesting is that she finds a lot of her inspiration from architecture and landscaping.  She explained how the structure of a bouquet or centerpiece is very architectural because you have to know which flowers have sturdier stems or blooms and will be able to hold up other flowers and/or themselves, or which flowers will be more drapey and will need support.
As for trends, Kimberly says that the colors of the flowers chosen for bouquets are usually based off of what color the bridesmaids dresses are and that for 2017 navy will be a popular color for bridesmaid dresses and for flowers it will be the color Marsala.  I think this color combination sounds absolutely entrancing and exotic!  I can't wait to see what colors my couples end up choosing this year.
I was lucky enough to photograph a wedding last year that she created the florals for!  Below are some of those images from Kate & Kyle's Arboretum Wedding.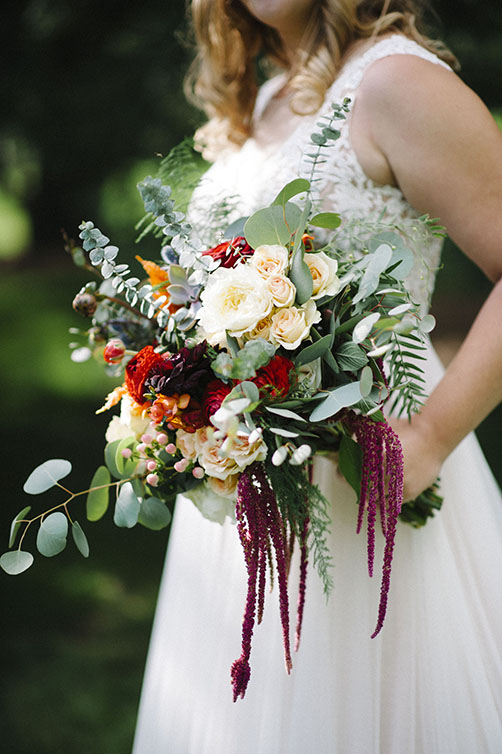 Comments are closed.