BLOG
October 16, 2017
Sweet, thoughtful, quiet, introspective and beautiful.  Ellie knits, likes super hero and fantasy stories and plans to study literature and history.  I had a wonderful time getting to know her at our photo shoot at Lebanon Hills park on a slightly chilly afternoon.  Take a closer look at her dress, I love that what look to be flowers are actually skulls!!!!!  And she loves cowboy boots, she wears them so much that she is constantly wearing out the bottoms and having to get new ones.  She is indeed a girl after my own heart.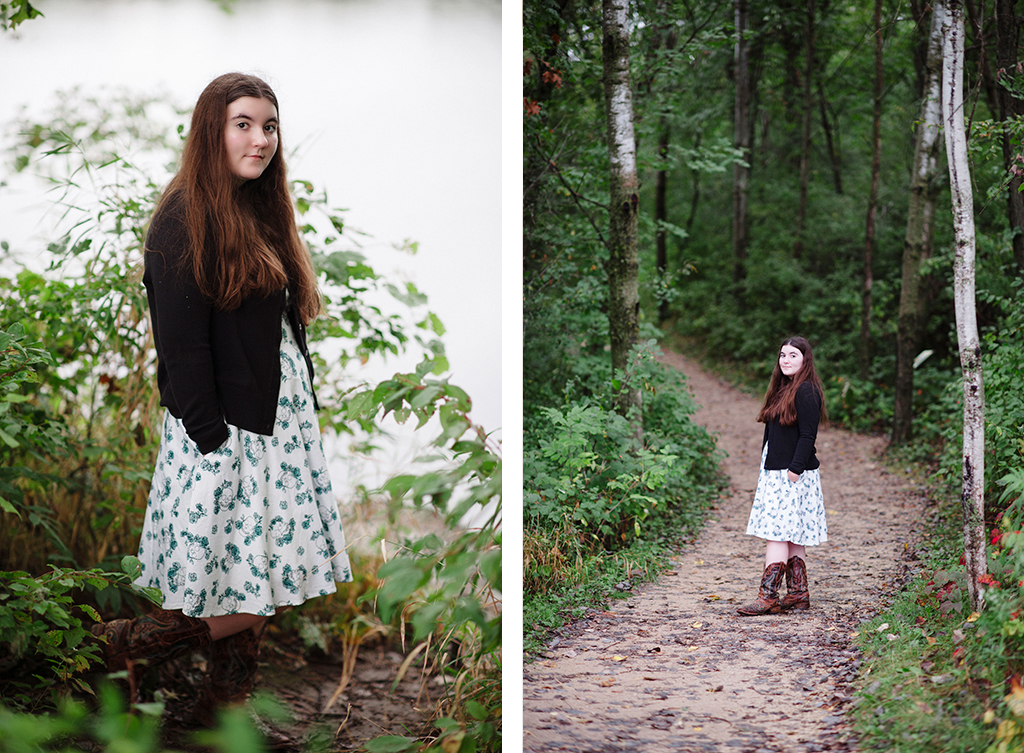 October 9, 2017
Abigail is super funny and quirky and I love her!  She claims to not have any confidence and not like having her photo taken but I think she kind of got into our photo shoot because she rocked it!  We had a great time down at the Mill City Ruins in Minneapolis amongst all the awesome architecture.

September 26, 2017
It was almost like we were in Hawaii… but we were in Shoreview, Minnesota.  However, Serenity & Sean made it feel like we were somewhere else, with the beautiful flowers, and the lake and their tropical attire. They almost had me convinced.
"E Aloha Kekahi i Kekahi – Love One Another." Hawaiian proverb

September 21, 2017
Not all weddings need to be a big production.  Baileigh and Pat exchanged their vows in a small, sweet, courthouse ceremony amongst family.

September 18, 2017
Erin is absolutely adorable and had such a fun time with her photo shoot!  She had recently traveled to Paris and snagged this sweet gingham dress that she is wearing and I was super jealous of.  I love her style! I also love that Erin is big into scrap-booking her memories with friends and understands the importance of printing out your photos and having them as keepsakes.  Her travels to Paris inspired her desire to do her photo shoot on Nicollet Island and in the Minneapolis warehouse district for a bit of a metropolitan look with all the old buildings.

September 12, 2017
When two people are meant for each other, you just know it, you can feel it in their presence.  Josie and Jarrod complete each other.  Jarrod studies the land and rocks and minerals as a geologist and Josie is an animal lover (she would like to have an animal rescue farm someday).  She's also a fellow admirerer of The Gilmore Girls, she even made a "No Cell Phones" sign exactly like the one in Luke's Diner and she needed the photo in the gazebo that resembled that of the one in the towns square of Star's Hollow.  This is my kind of couple!
I have always been a daydreamer, a romantic, a believer in love at first sight. Growing up my favorite movies were The Princess Bride, Legend, Labyrinth and The Never Ending Story. Stories of lovers separated but brought together in the end, forever bound by their undying love for each other. Perhaps I see life through rose tinted glasses, but I believe that love rules over hate. Photographing Josie and Jarrods wedding all I saw was true love. Love between the two of them as they shared their first look. Love from a mother to a daughter with a gentle grasp of the hand. And love from a father, however no longer amongst the living, but everyone agreed that Josie's dad was present in the flock of pelicans that gently swooned and undulated across the cloud covered sky, flashing their black and white wings right at the very moment Josie and Jarrod spoke their vows to one another.   A low rumble of thunder sealed their "I Do's", as their had been rain in other areas that day, but not over Josie and Jarrod.  In fact, the sky was perfectly overcast, a photographers dream for beautifully lit photos.  Josie's dad was also a photographer, which just made me think even more that his presence was strong that day.  Never stop believing in the magic.
Wedding Ceremony & Reception: The Landing-Three Rivers Park District, Cakes: Thirsty Whale Bakery, Bridal Gown: Bridal Aisle Off The Rack Boutique, 
DJ: Funky Turtle, Grooms Suit: Jos. A. Bank, Hair: The Pearl Salon,

August 10, 2017
These two… So much love… Seriously.  I cannot wait to share the rest of their photos!

July 27, 2017
While in Texas we scouted around the adorable little art town of Marfa. We ate some great food at The Food Shark, had dinner at The Hotel Paisano where the movie "Giant" with Elizabeth Taylor and James Dean and Rock Hudson was filmed and we visited the Donald Judd Foundation, where they were slightly snarky, but then Tim laid out all of his art knowledge on them and said "take that!"  Okay, so he didn't say "take that", but he did let them know who they were talking to!!!!

July 26, 2017
El Cosmico is this awesome place in Marfa, Texas where you can stay in either a tent, a TeePee, a yurt or a retro renovated trailer!  We chose the trailer, The Spartan Manor to be specific.  I loved this place!  I wish I had thought of this!  It was just perfect.  In the middle of the desert, under the starry sky, amongst nature, (two roadrunners ran right in front of me while I stood outside our trailer) yet in a super cool, retro trailer with A.C!  Your level of "Hippie" is up to you!  Oh, and apparently we just missed Beyonce!

July 25, 2017
When we first arrived in Texas in mid April, it was freezing cold and I was pissed because I did not just leave Minnesota to be cold in Texas.  Then we went to Big Bend National Park and it was really hot and I stopped complaining.  Texas is indeed a wild place!  Big Bend is vast too, one part is just all brown and rock and another part is completely different and full of coniferous trees.  The most exciting parts for me were all the blooming cactus and when we would see tarantulas crossing the road!  We would pull over real fast and jump out and watch them as they peacefully made their way across the road.  Fascinating!  We also saw a large burrowing wolf spider and a black widow in the wild, which was not so fascinating.